"THE PATH TO SUCCESS IS ALWAYS ACHIEVED WHEN WE HAVE DREAM, DETERMINATION AND DEDICATION"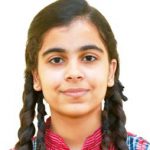 School for me is not a destination but a journey, full of hope, promise and endless possibilities. I am blessed that I study in this school. As once Leonardo Da Vinci, the great Italian artist and scientist remarked "Iron rusts from disuse, stagnant water loses its purity and in the cold weather water becomes frozen; even so does inaction sap the vigour of the mind". Our school is alive to the challenge of moulding students to be lifelong learners by developing their skills as academic achievers, progressive thinkers, effective communicators and empowered citizens.

I am thankful to school Management and all my teachers for giving me the opportunity to serve as the head girl of the school. To be appointed as the Head Girl of Nirmala Convent School is definitely a great honour. For me, it brought both a sense of pride and responsibility and the opportunity to serve the school. Nirmala Convent School has given me everything one could ask for. Being a Nirmalite is a blessing as the school has taught us that one can go fast alone, but to go further, we have to walk together with the spirit of " Truth, Love and Service".

As a head girl I'll try to be the best role model possible for all the students. I hope my experience as the head girl shall be a very enriching one. School is like a second home to me and I'll try my level best to make my school proud.