"Trust no future, however pleasant
Let the dead past lorry its dead!
Act- act in the living present!
Heart within and God overhead! "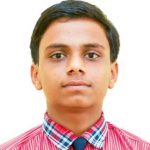 Being a part of Nirmala Convent School, I feel myself very honoured and privileged to be the Head boy of this prestigious institution. I feel short of words to express my emotions, my gratitude for the opportunity I received. I am grateful to school authorities for putting in their trust in me and giving me the opportunity to do my best for my Alma – Mater.
My wonderful year at NCS has left an indelible impression on my heart and soul and has shaped my life in many beyond measure. Our school aims at transforming every individual to become men and women of Competence, Conscience, Compassion and Commitment. Above all NCS made me and intellectually, morally and spiritually active.
School is like a second home to me and I'll try my level best to make my school proud. I promise that I will fulfill all my responsibilities very well. And I will try to make myself a good example of being a good student not only in knowledge but also in behavior.